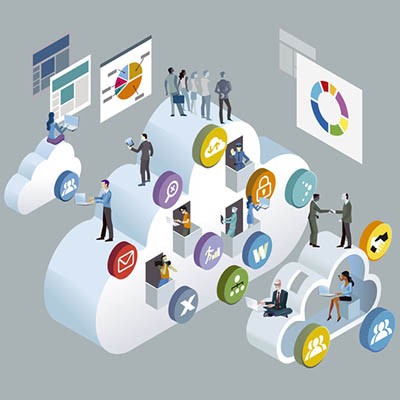 Businesses of all types have looked to the cloud as a way to receive the goods and services they could use to improve their ability to create revenue, while not having to lay out huge chunks of capital in which to get the dynamic computing infrastructure. Today, developers are creating useful cloud-based applications that not only provide growing businesses the resources they need, they increasingly give workers flexibility, through their inherent accessibility. Today, we will take a look at five cloud-based applications that can really benefit a small business.
QuickBooks Online
QuickBooks has been a major accounting and payroll software for some time, but Intuit, the company behind QuickBooks, has developed the platform in the cloud. QuickBooks Online allows users to create professional invoices, track sales and expenses, manage accounts, automatically download bank transactions, and schedule and send invoices to clients. QuickBooks Online also provides users the ability to work from thousands of different devices, while also providing integration with over 300 other cloud-based applications. Managing your organization's finances has never been so simple, and affordable.
Evernote
Evernote has moved to the cloud. Like QuickBooks, the Evernote note-taking app has been around for some time, but now that it's a cloud-based application, users are seeing a stronger, faster, more robust solution than they had before 2017's migration. Since the Evernote interface allows users to save and archive information found online, it is very much personal information. Evernote has added encryption to their platform, securing people's information, and providing a trustworthy and feature-rich productivity application completely hosted in the cloud.
DocuSign
Think about how many documents you've signed just this year? Imagine if you could forgo the meetings, the appointments, and the expense of travel by just signing official documents through an app? Whether you are making an offer, closing an agreement, or providing access, DocuSign is the right solution for you. Allowing people to remotely sign official documents makes it possible for people who need to get more done faster to do so.
Slack
Slack is a communications platform that provides users integrated options to enhance project management and productivity in the cloud. Slack includes several features designed to help projects move faster, including person-to-person private message boards and instant messaging. You can get everyone on a project on the same page. This enables you to produce more work rooted in success than would be possible without the application.
Asana
Asana is a project management software that allows teams to collaborate by setting projects parameters and milestones and then collaborating to meet those milestones. By giving teams a way to organize, meet their deadlines, share files, and be more pragmatic with their time, more can get done, producing more revenue growth possibilities.
This is a short list of extremely useful applications that work for small businesses, but only you know what business-line applications will work best for your business. If you are looking for a solution to a specific problem, the IT professionals at Catharsis Managed IT Ltd have the knowledge and expertise necessary to help you choose the right solution for your needs. Call us today at (416) 865-3376 for more information.