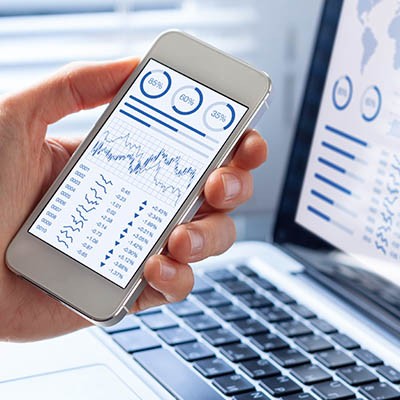 The smartphone is the defining invention of our time, and as a result, it has to be used for more than gaming, social media, and messaging. The smartphone is a great device to supplement your productivity efforts while you are on the go. Since these devices can do more than they ever have, more can be done by using mobile apps designed specifically to increase interdepartmental collaboration and business-to-client communications.
For Communications
Obviously, the smartphone is a major communications hub for anyone. With options to call, text, and message, the smartphone is an indispensable tool. Today's communications tools are more agile and provide users the ability to use all different types of communications. How does this help a business? Simple, it provides team members the ability to communicate with one another from anywhere at any time, which allows for better collaboration and increased efficiency.
Use of Mobile Apps
The development of mobile applications offers workers the ability to continue their work outside of their workplace. Instead of web-based resources that were typically used through web browsers, the mobile app is specifically designed for the mobile worker, providing a lot of value for any business that chooses to use them.
Mobile apps can supplement every part of your business. Many enterprise applications have begun rolling out mobile apps as more and more people rely on their smartphones as their predominant device. The ability for employees to collaborate with their co-workers and support the products and services your company provides makes the whole of a business' day-to-day operations, project management, and support structures better.
Perceived Detriments
Yet, employers are on the fence about the use of smartphones in their offices. This is because in their view, anything that takes away an employee's focus from their jobs has to be detrimental to their business. Similar sentiments are currently being said about social media. In response they are blocking social media, they are blocking personal telephone calls on their phone system, and they are blocking smartphone use in the office. They do this because the time spent on social media sites and the time spent on their phones, must have corresponding drops in productivity. The problem with this theory is that by assuming time equals productivity, the business owner/manager doesn't take into account the time that smartphones are being used outside of the office for their business' benefit.
Mobile Device Management and BYOD
With smartphones becoming more and more useful for businesses, there needed to be a way for them to properly manage these devices. While there are some businesses that are able to provide smartphones for their employees, most cannot (or will not). For those companies, having a way to ensure that their employees follow their business' mobile policy is important. A Bring Your Own Device (BYOD) policy uses innovative mobile device management software to ensure that they have oversight over every device brought onto their network. This typically only includes control over company data and applications but can extend to the entire device depending on the policy enacted. While this strategy will likely not be very popular with your staff, if they want to use your company's wireless connection (rather than their own data plan), they will adhere to it.
The mobile device management platform gives administrators control over all mobile devices on the wireless network, ensuring that company data is secure and that permissions are respected. With the ability to whitelist and blacklist applications, it extends your company's content filtering system to your employees' devices, making it extremely useful if you've identified apps that serve no purpose for your staff inside your workplace.
If you want more information about how to best use smartphones for your business, call us today at (416) 865-3376 to learn what you need to properly manage them.