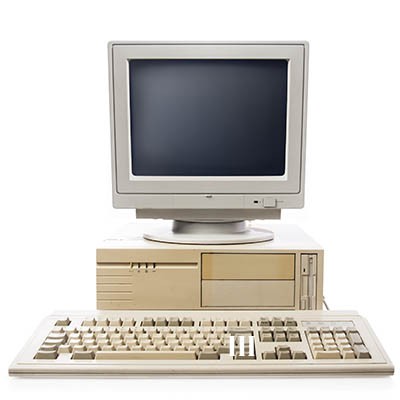 Think about how much office technology has changed over just the last 10 years. Remember those bulky, 60-pound CRT monitors? Remember thinking a 32" screen was a TV, not a computer monitor? While you more than likely have replaced those old computer monitors, what is the status of your computer hardware? If you purchased your computer at the same time as that monitor, your hardware is also extremely outdated. How do you know exactly how old your computer is, and when it's nearing retirement?
Wait, How Old?
When your computer ages, it begins to slow down. When your computer begins to slow down, so does productivity. Let's dive into how you can determine the age of your computer.
Most computers will have an identification number, and typically a date associated with it. Most of the time these are right on the case. If there's no date provided with the serial number, a quick search will typically give you a general idea of its age.
You can also check the components on your computer – but not by opening the case. You can do this by using the system information tool on your desktop. In the Search Windows box, type in "sysinfo" or sometimes just System Information. In the window that appears, you will be able to access plenty of information to help you date the machine in question. For instance, if the BIOS of the device has never been upgraded, the date will likely tell you how old your computer is.
This dating process will give you a better idea of whether your computer's latency is related to its age, or some other issue.
Dinosaurs Belong in History
There are numerous signs that signify your computer should be retired. While some of these are obvious, some are less detectable. Let's start with the obvious.
Your computer is massive – Devices in the modern age have drastically reduced in size. Upon first release, a computer was humongous. Now, you're able to hold an entire computer in the palm of your hand. If your computer is on the bulkier side, chances are it is an old device.
Starting/Shutdown take considerably longer – A few factors could contribute to long wait times upon startup and shutdown. However, generally this is an indicator that your device could be outdated. Recent introduction of SSD's dramatically improve startup times. Once you boot up with an SSD, you'll never want to go back to waiting 30 seconds to sometimes even two minutes or more without one.
Compatibility is limited – If you've gone to install an application and are limited by your computer's hardware or software, an upgrade should be in your near future.
Noise…and lots of it – If your computer makes a considerable racket, chances are your computer is infested with dust. While a good cleaning might help lower operating temperatures, this is a clear indicator that your computer (or at least its fan) needs to be upgraded.
It is highly recommended that devices be upgraded every 4 years. Outdated hardware and software leave your business more susceptible to security threats, and device failure. Our experts at Catharsis Managed IT Ltd have the contacts to help you procure the equipment you need to sustain, and improve productivity. Call us at (416) 865-3376 to learn more information.