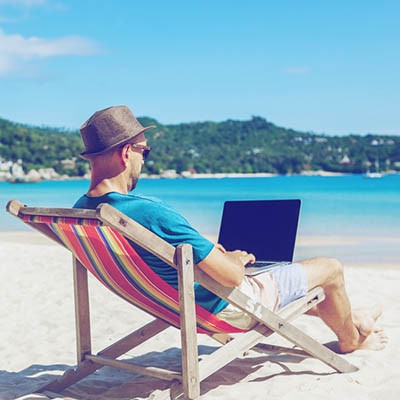 Packing for trips can be frustrating because there's always the chance that you'll pack either too much or too little. This is especially true if you have multiple devices that you might be tempted to bring with you. It's important to remember that you don't always have to bring each and every device you own every time that you leave the office or go on a trip. We'll help you make sure that you don't overpack technology whenever you go on a trip.
Devices
It's no question that employees can be far more productive when they travel than any time in human history. This may involve bringing the technology they depend on to airports, train terminals, bus stops, and hotels. Sometimes they take their eyes off of their bags momentarily only to find them misplaced or stolen. This also means that any data stored on their devices is stolen as well.
To keep this from happening, it's critical that business professionals try to limit how much technology they take with them on business trips. Tablets and laptops can help individuals get more work done while on the go, but can be a big target for thieves. Many devices, like Netbooks, smaller Chromebooks, and the Macbook Air can be both portable and powerful solutions to your organization's flexibility needs.
Beyond these solutions, many smartphones also are great for staying in communication and being productive, as well as for entertaining yourself in the interim. Even phones that have been around for a couple of years are loaded with features that let you get more done in a smaller, more compact device. In fact, the average smartphone in 2018 has just as much computing power as the average laptop, so you will have no shortage of ways to get work done.
The latest Samsung smartphones include a device known as the Samsung Dex, which is basically a dock that provides computer-like performance for your smartphone when it's hooked up to a monitor. While it makes for an exciting concept, Microsoft has also tried to achieve this to save their smartphone development. Unfortunately, it wasn't enough, but the point remains that these devices are far too strong and flexible to be limited to just social media.
Connectivity
Some of your staff might travel for work, so it's extremely important that they have access to technology that helps them with work. Thanks to locations that have wireless access like Internet cafes, connectivity is less of a problem than it's ever been. This doesn't mean that the networks are secure as you need them to be, though. Data is easy to steal while it's in transit, so you'd best be thinking about implementing a virtual private network to shield data from prying eyes. Basically, a VPN provides an encrypted tunnel to send and receive data, making it the most secure way to stay productive while out of the office.
There are also conferencing applications available that can be utilized to keep teams connected while out of the office. Your staff can remote into a meeting so that they don't miss a beat, and there are all sorts of cloud-based collaboration environments available for file sharing. It might be the traveler's responsibility to ensure they can remain secure, but you can at least provide them with the tools to help them stay productive.
Does your business need help with remote access technology or collaborative solutions? Give us a call at (416) 865-3376.